Refrigerant Charging Hose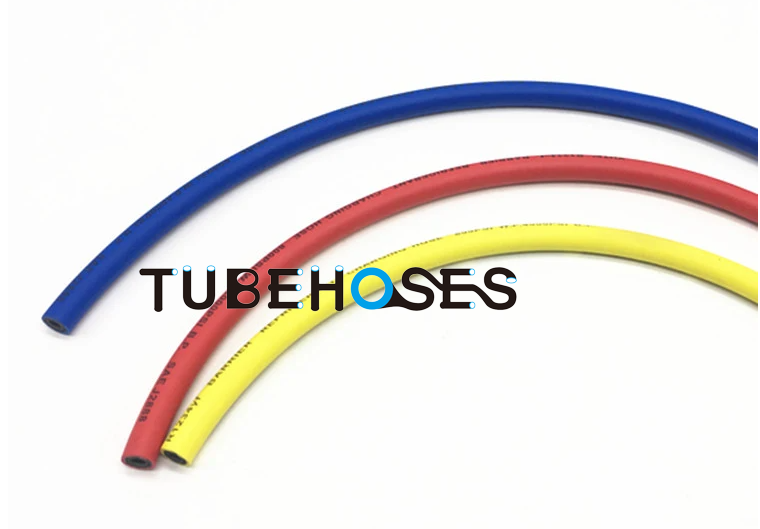 Product name : Refrigerant Charging Hose
Products Category: > Refrigerant AC Hose > Refrigerant Charging Hose

Refrigerant Charging Hose
Materials:
Inner Tube: High nitrile-butadiene rubber (NBR)
Outer Tube: NBR&PVC blends
Reinforcement: Polyester fiber braided.

Capabilities:
Corrosion resistance: the oil resistant grade of inner rubber layer is RMA-B; hexane corrosion resistant; preventing seepage of various refrigerants.
Heat-proof aging: in the standard aging chamber, temperature: 70+/-℃; testing period: 72t; tensile change: not more than -25%; tensile stretch: not more than -30%.
Physical properties: tensile stretch of inner and outer rubber layer:>300%; flexiblity of hose is sound under -30+/2℃ for 5t; without craze crack or fracture after 180 bending over or doubling.
Anti-ozone aging: in the standard test chamber, concentration: 50+/-pphm; temperature: 40+/-2℃; testing period: 72t; without crack.


Specification sheet:
Here is only one standard inner diameter size: 5mm, two outer diameter sizes: 11mm and 12mm. These sizes occupy large part of refrigerant charging hose markets. The standard length is 100m per roll, other lengths like 50m per roll are also OK for us.
Here are three Burst pressure for refrigerant charging hoses: 2500psi, 3000psi and 4000psi.The hose price will mainly depend on the pressure since the hose ID is the same. Higher pressure, higher cost.
| | | | | | | |
| --- | --- | --- | --- | --- | --- | --- |
| Inner Diameter | Outer Diameter | Working Pressure | Burst Pressure | Length | Measurement | Weight |
| mm | mm | psi | psi | m | cbm/roll | kg/m |
| 5 | 11 | 500 | 2500 | 100 | 0.02 | 0.13 |
| 5 | 11 | 600 | 3000 | 100 | 0.02 | 0.13 |
| 5 | 12 | 800 | 4000 | 100 | 0.02 | 0.16 |
Application for refrigerant charging hose:
Conveying refrigerant such as R12, R22, R502 and R134a; applied widely to auto refrigeration, air-conditioning, industrial refrigerators etc; both the inner rubber layer and protective layer are of high level oil resistance of grade RMA-A antiseepage
Send Inquiry :